Colette Paul, Landscape Artist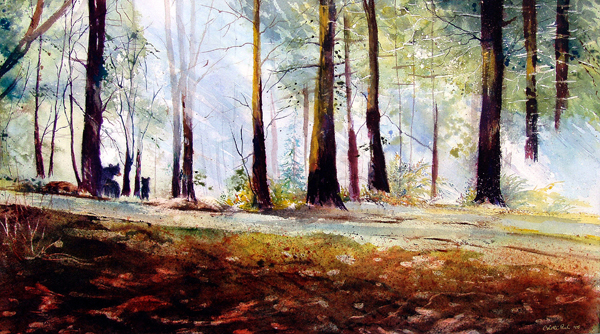 Colette Paul, AKWS, HWS, ISAP, NEWS, NFWS, VWS is an award winning artist who has been juried in over 100 shows throughout Vermont, the U.S. and Canada. She won Best in Show two years in a row; the inaugural Mary Bryan Award for best traditional landscape or Cityscape in watercolor and several awards at the Bryan Memorial Gallery's Northern Vermont Artists Association's Annual Juried Show She has received numerous ribbons at the Champlain Valley Exposition since 2005 and was the featured artist in 2009.
Colette is a signature member with the Alaska Watercolor Society; the Hawaii Watercolor Society; the International Society of Acrylic Painters; the North East Watercolor Society, the Niagara Frontier Watercolor Society and the Vermont Watercolor Society.
Artist Statement
Art has always been a part of my life. My passion for painting stems from my childhood at my grandmother's, in Arthabaska, Quebec in the "Region des Bois Francs". She encouraged me to paint the world of nature as I saw it. My mother nurtured my artistic expressions through her examples of creativity, and her many talents. were an inspiration. I recall art and creativity playing a large role in my family at a time when old fashioned traditions were passed on to the next generation, whether it was quilting, knitting and sewing, wall hangings, making a child's toy, home decorating, painting, music, gardening,
My current focus is on watercolors, a challenging though satisfying medium. I paint the Vermont Landscape in its ever changing moods. I strive to capture the essence of the peace and tranquility of the rural settings. I also enjoy painting with acrylics and oils. One of my inspirations is my home in Monkton. It is my living canvas, a continuing work in progress. A place where I find solace, a place where time slows down and mindfulness is possible. Possibilities here seem endless.
Landscape Artist

285 Bristol Road
Bristol, VT 05443
cpaul@gmavt.net